A busy start to the second half of the Summer Term!
Everyone have come back to school full of energy and ready to learn from lots of different activities.
Some of us have been digging up the soil in our garden area.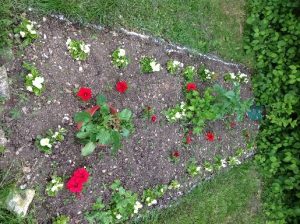 Once this was completed one child planted flowers and some vegetables: runner beans; potatoes and courgettes. After lots of watering and the lovely sunny weather we have been having, the flowers have grown amazingly. We are all very excited to see that we have strawberries growing too.  Salt has now been put around the flower bed because the slugs kept eating all the plants.
It has also been our whole school sports day this week.  We all enjoyed taking part and supported our colour teams with pride.