Message from Mr Applegate
It's been a quiet yet busy start to our term. I've been so impressed with how the children have returned to school- despite the usual post-Christmas tiredness which we all feel.
Well done to our Year 4 pupils who demonstrated excellent behaviour and attitudes in their swimming lessons which started last week.
I trust the reports have been both helpful and encouraging. Please don't forget to ask your child's teacher if you have any questions. We also have parents' evenings coming up in February. See the link below for booking details from 16th Jan.
Finally, you may be interested to know that you can click on the titles of the events in the diary below, and it will add a link to your online/phone calendar,
Have a great week, Mr Applegate :)
Parents' Evening Online Booking
Please note the online booking system will be live from Thursday 16th January.
http://www.parents-booking.co.uk/stmarks
Remember that classes 1C and 3BE have slightly different timings. More details about booking can be found here

Click here to read information about TikTok – it unfortunately causes quite a few problems out of school!
Star Learners
Year R – Oliver, Freya, Ava (Puffins)
Year 1 – Freya, Braden, Zach P
Year 2 – Toby, Ruby, Millie
Year 3 – Kalel, Cristina, Sean
Year 4 – Lexie, Sophia M, Bethany
Year 5 – Evie (5GP), Summer, Evie-Rose
Year 6 – Lexie, Katie, Sebi
Attendance
KS1 Class: 1J & 2T with 100% attendance
KS2 Class: 4SH, 4T & 5F with 100% attendance
Costume Swap Shop
Firstly, happy new year from the FOSM team!
In response to your feedback about world book day, we are going to set up a costume shop on 31 st January in the small hall, after school.
We'd like your helping in stocking up the shop please. Have a good rummage around the house for unwanted or outgrown costumes that are cluttering up you children's toy boxes. Then bring them into school on Monday 20th January and we will be able to stock our up-cycled costume shop.
Then come along to the small hall after school on Friday 31st Jan to buy a different costume, at a really good price. All proceeds go to the school, and will support the aim of buying new books.
Please note that there isn't a guarentee of being able to buy different costume. The costume shop will be open to the whole school.
This is a trial event, and we hope it's a success! The FOSM team.
Big Bird Watch 2020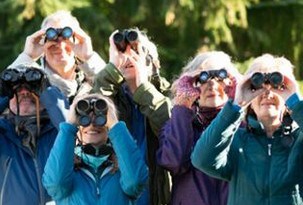 The RSPB Big Bird Watch is coming – click here to find out more!
Walking in and out of school
A quick reminder – we're glad that children are eager to get into school, but please can you ensure they walk in, once through the gates. Keeping to the paths (and not over the mounds) is important, too. Thanks!
Year 4 Swimming
Just a reminder, Year 4 will be swimming on the following dates:
January:
Mon 13th, Wed 15th
Mon 20th, Wed 22nd
Mon 27th, Wed 29th
February:
Mon 3rd
Dates for your diary
Regular notices
Careers Fair

We're excited to be running our St Mark's Careers Fair again! Tuesday 4th and Wednesday 5th February, 9-11:30am. To find out more and to register:
SCL Afterschool Club

Did you know? Our after school club has great features, including:
1. No deposit required. Simply pay as you go.
2. Bookings are online, quick and easy: www.stmarksprimary.net/scl
3. You can book the night before – no need to book weeks in advance, but you can do that too!
4. Children can attend after school clubs, and then go to SCL when they finish – and also pay a reduced rate.
5. There is plenty of space, and the club is financially secure. It's here to stay.
6. An afternoon snack and meal are provided.
7. Activities at SCL are varied and fun.
8. Cost is £12/session, or £9 if attending later because of a school club.
9. Hours are 3:20pm to 6pm.
10. Child care vouchers are accepted!
Hire our Facilities!
St Mark's boasts a large hall, a smaller hall, a kitchenette, a very large field and playgrounds. Our hire rates are very competitive. Our facilities can be hired for:
birthday parties
fitness classes
sport events
celebrations
training events
meetings
and more!
St Mark's are moving with the times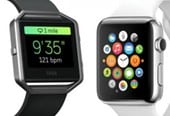 We're aware that techy watches are becoming increasingly popular. We are therefore relaxing our rules to move with the times. If children have a fitbit or tech watch they want to wear to school, this is fine. However, it is done so with the following rules, and failing to follow these rules will result in not being able to wear the watch to school again, or having it taken off the child to give to the parent.
Watches must not be played with in class or during learning time. They must be on mute.
No watches with cameras are allowed.
Watches must not be connected to wireless networks, Bluetooth, networks or otherwise, and must not communicate with each other.
Any damage, loss or theft of watches is not the school's responsibilities. If parents allow their children to bring expensive watches in, they do so knowing that they may be broken or lost. The school will not take responsibility for this or dedicate time to resolving issues – even if it is the result of another child damaging it.
Should this change of rules result in difficulties, the school may reverse the policy!
SCL February Half Term and INSET Day Childcare
SCL will be holding clubs at Hatch Warren Community Centre and Great Binfields School.
The theme will be Spy School. Please use code 4E15 to receive a 15% discount. Click here to book.
There is also SCL provision at St Mark's for our INSET day on Friday 3rd April. Click here to book.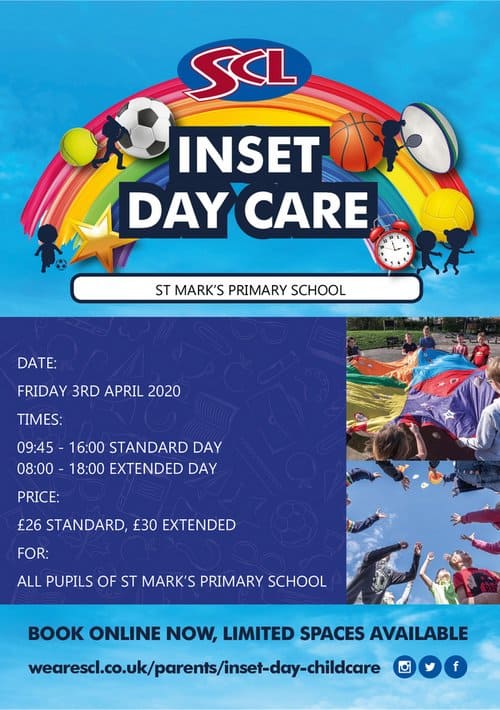 Recent posts from our website
Get in touch with us