A note from Mr Applegate
We say goodbye to….
Mrs Sim – Part of our fab office team, Mrs Sim is sadly leaving us at the end of next week. Having worked with us for over 17 years, she has looked after our school in so many way and brings much laughter to the team. I will miss her sense of fun and hardwork, and the many jobs we've worked on together. I don't think she will miss my Google forms though! I would like to publicly thank her for all that she has give to St Mark' over the years, and wish her all the best as she goes to look after her family. We will miss you VERY much Mrs Sim. Please come and visit us!
Mr Blake – Mr Blake joined us 4 years ago Christmas time, soon after Mr Carter retired. A tricky act to follow, Mr Blake quickly became part of our team with his sense of fun and helpfulness. Mr Blake has given so much to our school in these short years, and his help in getting us through the lockdowns needs special mention- delivering lunches, laptops and resources (Mr Deliveroo!), as well as in the setting up of a covid-friendly school and all of the cleaning that goes with it. We will miss you Mr Blake, and are grateful for all that you have given to our school. We wish you all the best as you work in a non-school environment – again, please do come and visit!
Miss Barbour (Mrs Barbour's daughter!) finished with us this week. She has been an AMAZING part of our cleaning team, and we have been fortunate to have her on our staff. Her work ethic, attitude and general loveliness has made her a key part of our team, and an example to us all. We wish her all the best as she studies at university, and I know we'll see her around at times in the future.
In other news, it's been another busy week at St Mark's. I've spent some focussed days in classes, and have loved seeing the children hard at work and have yet again been struck by the deep care and attention given by the adults to the children.
Our Covid cases have significantly decreased; we now only have 5 positive cases across the school. We will therefore return to year group bubbles from Monday. Please continue to be cautious though – and the guidance we follow will conitnue to be in place (e.g. siblings being tested).
Have a great weekend, Mr Applegate :)
The  Iron Man (book!)
A plea from year 3! Are there any parents who have a copy of The Iron Man by Ted Hughes lying around? Would you be able to donate it back to school? Or even lend it to us? We'll be using them straight after half-term. Thank you.
Interested in becoming a teacher?
We're a host school for the Aspire Alliance. Find out more, including information sessions, here.
SCO Pay App
Did you know that there is an SCO App for your phone, so instead of usign the website to make school payments, you can use the app? It's an easier way to manage school payments.
Anerobic Digester Plant
Do you have any concerns around the traffic/lorries which travel from the plant in Dummer? Please let us know if so.
Hire our facilities!
We're opening up again, so why not hire our hall, field or facilities for a birthday party, fitness class or training event? Click here to find out more.
Dates for your diaries
Parents' Evenings will be a 10 minute slot, online. Dates/times are: 
Monday 18th Oct, 4-6:30pm
Tuesday 2nd Nov 3:40-5:50pm
Thursday 4th Nov 4-6pm
School Payments
Just a reminder that we remain a cashless school.
Please pay for Breakfast Club, school dinners, trips and any other items via your ScoPay account.
We're a nut-free school  – including sesame seeds!
Just a reminder – thank you :)
Flu Vaccines
The School Nursing Team will be here on Wednesday 17th November to administer the Flu Vaccine for all children Year R-Year 6.
Consent forms will be sent home shortly.
Important changes to the school menu next week (week 3)
Due to supply issues, the menu will change on Monday 18th and Thursday 21st, the new options will be:
Monday:
Red option BBQ Chicken & Rice
Green option Cheesy Pasta (tricolor pasta)
White option Jacket Potato with baked beans
Thursday:
Red option Roast Beef
Green option Quorn Fillet with vegetables
White option Jacket Potato with Vegetarian Sausages
St Mark's Heroes – Can you make the difference?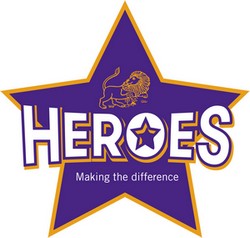 Our children need your help! They would massively benefit from an hour, an afternoon, or whatever you can give to help them during school hours. Our St Mark's Heroes scheme aims to gather as much support as possible to help our children with their learning. It could involve reading with a child, supporting a small group, or generally helping in class. It could be helping out at lunchtimes. It's also great experience if you're looking to get more involved in schools. We'll provide the training! There would be a simple application form to complete, a chat with Mr Applegate, and a free DBS check to complete. Click here to register your interest, and to find out more. Thank you for thinking about this – and for thinking of the difference you could make!
Well done to:
Year R: Maddison W-T, Archie, Sienna

Year 1: Kieran, Max T, Vinelle

Year 2: Claudia, Alyssa, Tina

Year 3: Amber, Lucas W, Friddie

Year 4: Joshua F, Olivia G, Harry C

Year 5 : Leighton, Emilia, Owen

Year 6: Charlie D, Madi P, Lottie B
Rock Stars 
Top player in each class:
Year 6 – Daisy C, Joseph H, Adam
Year 5 – Harry A, Sophie G, Ava
Year 4 – George H, Chloe Me, Jack Daw
Year 3 – Annabelle, Eva, Jack K
Numbots best effort:
Most improved accuracy
Year1: Amaira, Charlie J, Daniel C
Year 2: Camila, Lola Mia
Star Reader Awards:
Year 1: Gracie H, Millie, Cooper
Year 2: Liliana, Jack, Lucia
Year 4: George B, Ellie, Rebecca
Year 5: Harry A, Logan
Year 6: Joe H, Parker, Emily
Year R Tours for September 2022
Are you thinking about your child joining us in September 2022? Come and find out more about us at our online and onsite sessions!
Zoom Information Session:
No need to book! Both Zooms are the same.
Nov 15th Year R Info Zoom – 6pm Link here
Onsite Tours:
Please register here.
Please also attend the Zoom Information Session above!
Nov 9th Year R 

Tour

5-6pm
Dec 2nd Year R 

Tour

 5-6pm
Come along to the main entrance and we'll direct you.
🎵 Music of the Week 🎵
As part of our children's education, we're keen for children to hear a wider variety of music. This week's choice is below! Relax and enjoy!
Common Sense Media

Ever wondered if a movie is suitable to watch? This website gives parent and child reviews of movies, tv programmes, books and apps. You'll want to decide yourself, and your views may differ, but it can be a great place to start.
FOSM – Support Our School!
About FOSM
The 'Friends of St Mark's' (FOSM) was formed early in the life of the school. All parents are automatically members and our committee organises social events for children and adults and fund-raising events such as Key Stage discos, Easter Egg Hunts and Summer Fun days.
Over the last few years the 'Friends' have donated money that has contributed towards extra resources to benefit the children at St. Mark's which has included playground equipment, books for the school library, and general school funds. We are now a registered charity, too. Charity number: 1188879
Join our Facebook group here.