Immanuel Church
​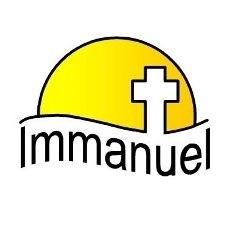 St Mark's is a Church of England Aided School and has close connections with the Diocese of Winchester and the local parish of St Mark's, Kempshott and is in the new parish of Immanuel Church, Hatch Warren and Beggarwood. It is a school for the growing community of Hatch Warren including the new development at Beggarwood. We welcome children from a wide variety of cultural and religious backgrounds whose parents wish them to be educated in a Church of England school and who are willing to support the aims and ethos of a church school.
Visit Immanuel Website ​by clicking here.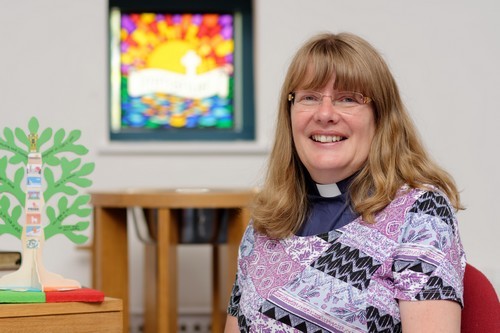 Hello, I'm the Reverend May Barker. I am the new Vicar at Immanuel Church at St Mark's Primary School and I would like to introduce myself. I am married to Nigel and I have a son who is at Exeter University. I have four dogs, a lizard and a snake. When I'm not walking the dogs, I enjoy making jewellery and exploring the countryside in my campervan.
Before becoming a Vicar I had a variety of jobs including being a live-in Nanny, a Teaching Assistant, a Healthcare Assistant in a hospital and a Sales Assistant in a pharmacy. I really enjoyed these jobs but felt that God was calling me to serve him in another way. So in 2008 I began training as a Licensed Lay Minister in my local church. A few years later I felt the call of God again and this time it was to train as a Vicar. I responded to this call and in 2014 I started a full-time course at Sarum theological college. I was ordained at Winchester Cathedral in 2016 and then completed three years training as a curate, trainee vicar, in sunny Southbourne, a place with a stunning sandy beach.
I'm really looking forward to working with the children, the staff and the parents in the school and also with the local community. I will be at the school regularly so please say hello if you see me.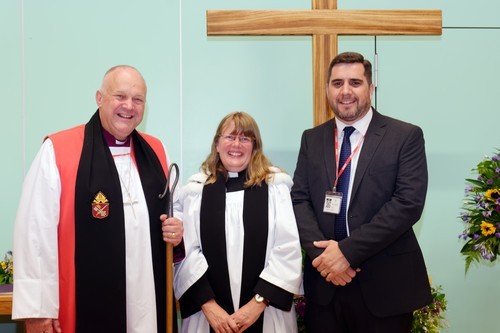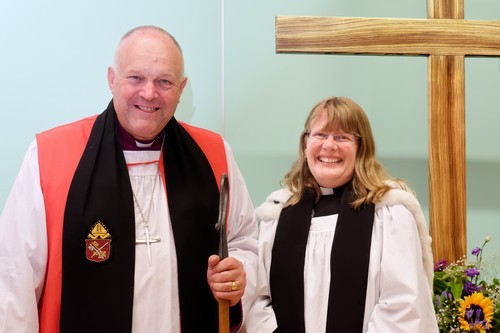 ​Big ​Questions
These are questions that came from our pupils for Fr Michael (Immanuel's previous vicar) to answer!
QUESTIONS AND ANSWERS – PART 1
I've had LOTS of questions posted into my postbox that's just outside the hall. A big thank you to everyone who has written a question for me. I will try to answer them all through this page. I will answer a few at a time as there are so many. It's really good to have your questions; keep asking and giving me suggestions.
Question: How old are you?Answer: I've had lots and lots of people ask how old I am! I was born a day or two before the first people stepped on the moon. I know that some classes are learning about the moon landing – see if you can find out when the first people landed on the moon and then that will help you find out how old I am!
Question: Do you have a family?Answer: I do. I'm married and have three sons who are called Christopher, Alexander and Matthew. Christopher has just started at university. Alexander and Matthew are at school. Matthew goes to Brighton Hill.
Question: Did you like the pizza we made for you? What is your best pizza?Answer: The pizza everyone made for me last Friday was amazing! I hope everyone saw the picture of me eating it. It was really tasty. I think it was probably the best pizza I've had – especially because it was made by more than 600 people.
Question: When you christen someone, how do you pour water on them?Answer: I have a jug of water that I then pour into the font (the special place where people are christened). I then say a special prayer to bless the water before I splash water on their heads – I just use my hand to do this. I often get quite wet because I like splashing lots of water on people's heads!
Question: How many years will you be here?Answer: Now that's a really difficult question! What's really fantastic is that being a vicar isn't for a set time, so I just have to see how I get on and listen to people at the church, at St Mark's and most importantly, to God, to find out. I hope I will be in Hatch Warren and Beggarwood for a number of years.
Question: When did you become a vicar?Answer: I became a Vicar when I had a special service on 3rd September in the school hall. Before then I wasn't a vicar. Before then I was in a parish learning how to be a vicar for three years. So I've not been a vicar very long at all.
Question: Do you like being in school?Answer: I really like being in school. It's really great having my office in school too. I think St Mark's is a really good place to be and I'm enjoying be part of the school; everyone has made me feel really welcome. I hope you like me being in school too!
Question: Do you enjoy singing?Answer: I do. I started singing when I was quite young and joined the church choir. I've been in lots of church choirs and some other choirs too. I've been singing for a long time!
Question: Can you play music?Answer: When I was younger I learnt to play the piano and the French Horn. I also played drums for a short time. I wasn't very good at playing instruments. I can read music which helps when I  am singing and can still play the piano a bit.
QUESTIONS AND ANSWERS – PART 2
Thursday 23 Oct 2014
I hope that you liked the answers to some of the questions that you asked me. I've still got lots more questions to answer, so here are some more. I've answered a few more than last time so you can read them over half term. Did you get the answer to when I was born and work out how old I am?
Question: What is your motorbike?Answer:  A nice easy question to start with! I've got a motorbike made by Honda called a VT750s. It's a nice comfortable bike. It is quite noisy, though! Here's a picture……..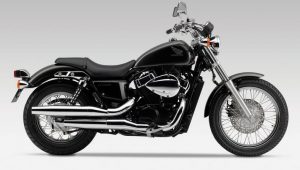 Question: Can you put the picture in the church?Answer: You may remember that on my first morning at St Mark's in worship I showed everyone a big picture that was really special to me. That type of picture has a special word – it's called an ICON; icons are special pictures of Jesus or the saints. The icon I have is called 'Jesus and his friend'. It's really special because it shows Jesus with his arm around his friend. I like to think of Jesus being like that to me; putting his arm around me because he is my friend. I have put the icon in church and will keep it there so you can see it. Perhaps one day you could have a go at painting an icon?
Question: Do you believe in Jesus?Answer: Yes, I do. I believe in Jesus and love to read all the stories about Jesus' life in the Bible. The stories all about Jesus' life are towards the back part of the Bible in the part called the New Testament. Four people wrote about his life in books called the Gospels; they are Matthew, Mark, Luke and John. What's your favourite story of Jesus?
Question: What is your favourite thing?Answer: That is a really difficult question to answer! I have lots of different favourite things and have just a few things that are very precious to me. They aren't worth a lot of money but have special meaning! My Grandad was a priest and I have some things that were his; I have his prayer book and a special cross and candle set that I use when I go to see people who are not very well. One of my most precious things, though, is a chair that used to be his that is now in my study at home and I sit in quite a lot.
Question:Will you help us learn about Jesus and God?Answer:  I would like that very much. I'm always happy to answer your questions about Jesus and God; Over the time I am here I'd like us all to learn more about Jesus and God and for me to help everyone at St Mark's find ways of doing that.
Question: How do you practice being a vicar?Answer: It takes quite a long time to be a vicar! I used to work in London for an Insurance Company in an office. I felt that God was talking to me and telling me that I should do something more; something in the church. I went to see some wise people and those people agreed that I should go to college to study to be a vicar. After three years at college (whilst I was still working in London), I was ordained. This is at a special service where the bishop puts his hands on me and prays for me. I then moved with my family to a parish to work in a church to learn to be a vicar. And now, having had that practice, I'm your vicar. I hope you think I'm doing a good job.
Question:What are your hobbies?Answer: I've got a few things that I like to do. I like riding my bicycle and going for a run. I also love music and films. I listen to lots of different sorts of music; classical, rock and pop. I'm sure some of the music I like you would find very strange!  I also love looking after my chickens – and talking to them!
Question: When are you going to do Sunday School?Answer: That's a really good and important question! Immanuel Church is hoping that we can start a Sunday School just after Christmas. I really hope, though, that if you come to church it's fun and anyone can feel involved. I think it is really important that everyone of any age can be part of our services so I don't make them very long and I also make sure that children especially can be involved. Come along and see what you think – and tell me! Question: Do you play football with other people?Answer: I always thought that I was ok at football, but I think if I'm honest with myself, that I'm really not very good. When I was young, I used to play in goal for my Cub pack, but that was a long time ago. I preferred to play rugby and was OK at that but I started getting hurt and so I stopped.
Question: Why do you want to work in our School Church?Answer: I am so so lucky that the church where I am vicar is part of St Mark's school building; I couldn't wish for a better job! I love being with and around people and so to come to work at church and to see so many people to say hello to is really nice.
Question: How old do you have to be to drink the wine and eat the bread?Answer: That is a great question. At Immanuel we have a service on a Sunday (except when there is a Christening) called 'Communion' where we have bread and wine. I invite anyone who is at church to have the bread and wine if they would like to. It's a special service because we remember Jesus' last meal with his friends, his disciples. And as we are all Jesus' friends, we come together as a family – a church family – to have this special meal. We also have something called 'Confirmation'. This is a special service for people who would like to make promises to God and the church family about following Jesus. You don't have to be an adult to be confirmed! People study the Bible and learn about the church and then make promises in a special service with the Bishop.
Question: Why are igloos round?Answer: What a brilliant question! And to be honest, this is a question that I don't really know the answer to! I think that igloos are round so that they keep in the warmth and so that when they are built they don't fall down. I found this joke on the internet…….Q. Why are igloos round ? A.  So that penguins can't hide in the corners.
Thank you so so much for all your questions; keep asking and putting them into the postbox near the hall.  I've had an amazing time in my first half term as the vicar for Hatch Warren and Beggarwood – thank you to everyone for helping me feel really welcome. It's fabulous being part of St Mark's School too. Have a great half-term and I look forward to seeing everyone back in November.
QUESTIONS AND ANSWERS – PART 3
Thursday 13 Nov 2014
I hope you all had a good half term and enjoyed the last questions and answers; especially the one about igloos. I enjoyed answering that one!
I'm still getting lots of questions; keep them coming! As we get closer to Christmas perhaps there are some Christmas related questions you would like to ask me!
Why do you want to work in our school church?One of the amazing things of being Vicar for Hatch Warren and Beggarwood is that the church building is also part of the school building; that makes it really special because usually the church is a separate building. This means that I can be part of the school community as well as the wider community. I am so so lucky to be vicar here because it is a unique place.
I wanted to work here because I think there is so much we can learn together. Not just about God but about lots of other amazing things too. We don't really ever stop learning, so as part of my job I can come to St Mark's School and carry on learning things from everyone from year R to year 6. And that's AMAZING.
Do you like prayers?You know what? I do! Prayer is a funny thing really because I think that sometimes people think you have to be extra holy to pray, or that you have to go to a special place to pray. Well, you don't! God wants to be our best friend; and when we have a best friend we share lots of important stuff with them and tell them everything and then they help us. Prayer is like that – prayer is talking to God and sharing everything and asking for help with stuff, but also just having a nice chat with him. You don't need to be extra holy or to go to a special place to pray. You can pray anywhere you like. Of course, sometimes, it's help us to be quiet and to go into a special place like a church to say prayers, but we don't always need to do that.
What's your favourite colour?That's quite a difficult question! I think it's probably red. I like red because it's a bright colour and I think it's a happy colour too. I'd be interested to know what your favourite colour is.
Where do you live?I'm very lucky that I live in a house that comes with my job as vicar – so I live in the middle of Hatch Warren and Beggarwood in Lapin Lane. It's great there as I can walk to Beggarwood through the park and to St Mark's School and Immanuel Church really easily. It takes me about 5 minutes to get to church.
Where do you go when you eat the bread?I think that question is about Communion. We have a communion service three Sundays in each month. A Communion service is special because we remember Jesus' last supper with his friends – but also because as a church family we come together for this special meal; it's a bit like a big family get together every week! I invite anyone who would like to to eat the bread. We also have a special service sometimes called 'Confirmation' (which I mentioned last time) where the bishop lays his hands on someone's head after they have confirmed what they believe in. In some churches it's only after Confirmation that people eat the bread.
Please can you help us do maths and be nice.I've never been really very good at maths; my eldest son is very good at maths! However, learning together is always good fun and I'd love to come into classes to help with whatever you might be learning. I hope that you've found that I am nice already.
Do you like being in school?I love being in school and being part of your community. It's amazing. It is such a  wonderful place to work. I love leading worship and coming to see you in your classes and during break time. The lunches are really good and everyone is so friendly. All the teachers and everyone else who works at the school are so nice. We are all very lucky to be able to be part of St Mark's.
Was God ever created?Gosh! That's a really hard question to answer! I have to be honest with you and say 'I don't really know'. Because God and this earth are so old we really aren't quite sure how things were created – scientists are still not sure how the earth was created and there are lots of very clever people who spend a lot of time trying to work out how things were created and how we came to be like we are today. I'm sorry I can't give a definite answer to that question!
Thank you for all your questions. Keep asking different questions and I will try to answer them.
QUESTIONS AND ANSWERS – PART 4
Thursday 27 Nov 2014
Here are some more answers to the questions I've received from the letterbox at school. Keep the questions coming! Next week I am in France spending the week in silence – a whole week in silence, not talking; can you imagine what that might be like? The place I visit is in the middle of the countryside and is a special place; a monastery where I will walk, go to services three times a day and pray. It's a good time for me to get ready for the busy-ness of Christmas. I look forward to seeing everyone when I get back.
Q: Do you like football?A: I do like football; Rugby Football! I enjoy watching an exciting game of football, but don't really support any team. When I was younger and lived with my mum and dad the nearest football team was West Ham; I used to go sometimes with a friend to watch West Ham play at Upton Park. The game I really enjoy is rugby and I have been to lots of rugby games. I used to play rugby – I was a Scrum Half; can you think of any famous Scrum Halves?
Q: Try to be a good vicar.A: I've been your vicar now for just over two months and it would be really good to hear whether you think I've been a good vicar! The page that the School Council prepared when the church was looking for a new vicar on what you thought a good vicar would look like is in the church office and in my study at home so that I can keep referring to it. I want to make sure that I am part of your community and the community of Hatch Warren & Beggarwood. Please tell me if there is anything else I can do to be a good vicar.
Q: Do you like beer or wine or any chocolate?A: I like all of those things! I don't really drink much beer – only sometimes – I like real ale or bitter and so I drink that when I go to the pub with friends; or the Hatch Warren Beer Festival that I went to a few days after I started. Most of all I like wine and enjoy a glass of wine at the weekend with my supper. When I was 18 I lived in France in an area called Burgundy. In this area they produced some very good wines – mainly white wine. I do also like chocolate. My favourite is probably Cadbury's Dairy Milk. It's Fairtrade too so that makes it even better!
Q: What do you do in church?A: There are lots of things I do in church. Sometimes I just spend some time being quiet and praying; talking and listening to God. I think it's good to spend some quiet time in church just thinking about the day ahead; or the day just gone. I also spend time in church leading services. Every Thursday morning and Sunday morning we have a service when I am in church leading that. It's very special that I'm able to help people worship God and to be with them during that time.
Q: What made you become a priest?A: That is a great question! It's also very difficult to answer! I've always thought that God was calling me, talking to me, asking me to do something in the church but I wasn't sure what it was to start with. When I left school I thought that God wanted me to be a monk; and I talked to some wise people about doing that as well as praying lots about it. After that I was trying to work out what God wanted me to do. I carried on praying and trying to listen to God and other people who could help me understand. I think I wanted to become a priest because I really like being with people and listening to them. Life isn't always easy for us and I think it's really good if we have people in our lives who can be with us in the good times and the difficult times and I would like to be the sort of person; the sort of vicar who can be with people and people want to be with in their good times and the times that are not so good.
Q: What music do you like?A: I've had a few questions about music. I've got about 15,000 songs on my ipod so to listen to them all would take a very very long time. At the moment I'm listening especially to music by Passenger and Ed Sheeran. I recently went to see Passenger live in Bournemouth which was really good. I like seeing bands live as well as listening to them on my ipod.
Thank you for all your questions. It would be lovely seeing people from St Mark's at some of our church services over Christmas; we're having lots. I hope they will be fun too. I had a card in the postbox with a lovely picture on it and a prayer so I'll finish this with the prayer that was written on the card:
Dear God, help us to love and trust God. Amen.
QUESTIONS AND ANSWERS – PART 5
Thursday 18 Dec 2014
This is the last Questions and Answers of the year; at the end of this busy term – my first term at Immanuel and St Mark's School, I wanted to say a really big 'THANK YOU' to everyone at the school for making me feel so welcome. It's an amazing school and I really feel so privileged that I can be a part of the school community.
I hope you have a really good holiday and that you and all those you love and care about have a peaceful and happy Christmas. I look forward to seeing you in the New Year. Fr Michael
Question: Who is a vicar? What do they pray? Why do vicars pray to God?
Answer: Gosh, three very good but difficult questions on one card! A vicar is someone who works in what's called a 'Parish' which is an area; often a town or village – so I'm the vicar of Hatch Warren and Beggarwood; and it is my job to provide care and prayers for everyone who lives there.
What do they pray? Prayer is like a conversation with God. People pray in very different ways; and sometimes it's quite difficult to actually think of anything to pray about but just being still is enough of a prayer. I pray for lots of people and things; sometimes in church, sometimes when I'm walking or in the car and sometimes at home in my study. You can pray at anytime or anywhere – it's not just vicars who pray!
Why do vicars pray to God; Because I'm a Christian, I pray to God. I know that God loves me and wants to be my best friend – he wants to be everyone's best friend. And as a best friend, it's important to talk, to pray.
Question: Are Angels boys or girls?
Answer: Angels are God's special messengers – and messengers come in all different shapes and sizes! In the bible, there was an angel who appeared to Moses in a fiery bush that didn't burn up. Of course, it was the Angel Gabriel who appeared to Mary with that amazing message that she was going to give birth to Jesus. I read this recently – something the Pope (a very very important priest and wise person) said about angels:- '"According to church tradition we all have an angel with us, who protects us and helps us understand things," he said in a message to mark the Feast of the Guardian Angels'
I think that angels; God's messengers, can appear at any time and surprise us and can be boys or girls.
Question: What do you like most about the school?
Answer: That's difficult question – because there are so many good things that I like about St Mark's! I don't think there is just one thing that I like most about St Mark's; there are lots. Everyone is really friendly and there's a wonderful atmosphere at school; there are amazing teachers and I really enjoy coming to the school; and I think that lots of you really enjoy coming to school. St Mark's is something to be really proud of.
Question: How often do you worship?
Answer: We have two or three services a week; one on a Thursday morning and our main one on a Sunday morning. We also have a quieter service on a Sunday evening once a month. At the moment, because it's nearly Christmas, we have a lot more! On Sunday 21st at 10.00am we have a Nativity service, at 5.00pm we have Carols by Candlelight and on Christmas Eve at 3.00pmwe have our Crib Service. Later on at 11.30pm we have a special service called Midnight Mass and then on Christmas Day at 10.00am we have our special Christmas service.
Question: How long were you waiting to become a vicar?
Answer: I was waiting quite a long time because I wasn't sure what God was telling me to do! When I was still at school I felt that God was asking me to do something in the church but I really wasn't sure what that was. It was about 10 years ago that I started talking to some wise people about possibly being a vicar.
Question: What's your favourite food at Christmas?
Answer: That's a tricky one! I love food! I do like turkey, but it's not my favourite so we have a mixture of turkey, goose and duck with lots of potatoes, vegetables and gravy. I love mince pies but I especially like an Italian cake called Panettone; which is a light, sweet cake with dried fruit in it – I first had Panettone in Rome in 1987 (a long time ago) and I've been given one most Christmases since!