Welcome!
We want to say a huge welcome to your family from St Mark's! If you are joining us for the first time or are already part of the school community, we hope you feel welcomed, informed and part of our school soon. Need to contact the Year R team with a question? Email them at newyearrsept22@stmarksce.org.uk
You can also find bite-sized information about St Mark's here.
Update 18th May 2022

 Find out about our June, July and September arrangements here, including details of our meeting on 7th June at 7pm at St Mark's. We'll be selling second hand uniform at the evening, too!
What do you need to do?
Your place at St Mark's is automatic if you've been offered a one by Hampshire (you will be notified by email or post). You don't need to confirm it or accept it.
Please complete our information collection form here by Friday 29th April. This is very important!
We'll need to see proof of address and ID. Please send a copy of your child's birth certificate or passport (for ID) and recent utility bill/council tax etc (for address) to adminoffice@st-markscofe.hants.sch.uk or bring them in.
Will your child need breakfast club? Details here.
Will your child need after school care? Two options: 1) SCL, run at school, no need to book in advance  2) Hatch Warren Community Centre After School Care. Details here
Need to let us anything? Contact us
We'll be in touch about meetings for parents and children in terms of getting ready to start in September.
Check back here often – we'll put date-based updates here.
Please join us for our Summer Fun Day!
It's always a brilliant day at St Mark's!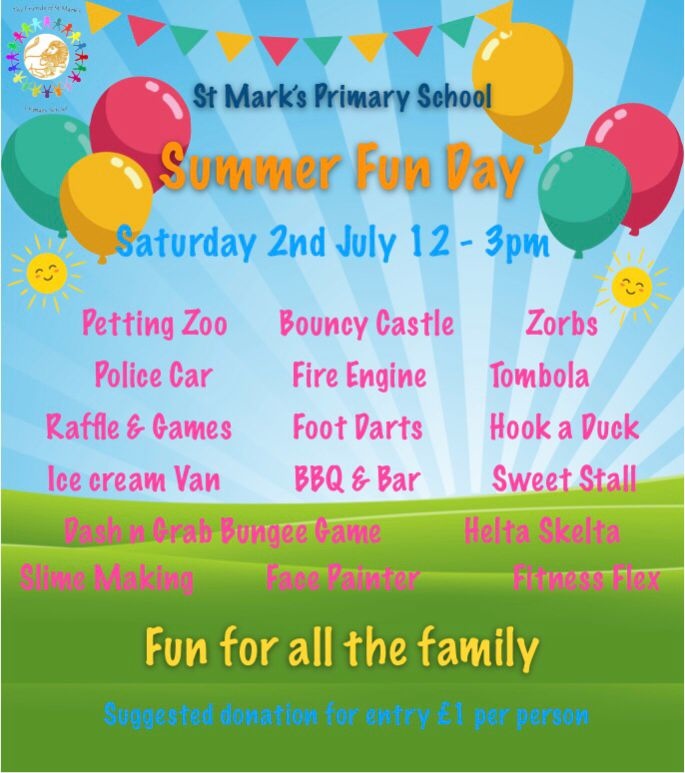 More information about our school
Got a question?
Photos of our school