Sorry for the delay in putting this information up after our meeting last week.  Below is all that was shared with those who could attend. Please do email us at year4@stmarksce.org.uk if you have any questions or worries. We are aware that some children will take this residential in their stride, some have been away before and some will be a little anxious but we will support all the children as they need.
Over the next few months before we go:

If your child hasn't had a sleepover, encourage this.
Get your child to help you make the bed as they will be encouraged to do this when we are allowed in rooms.
Why do we go?
To enrich our history curriculum – immersing them into being able to retrieve all they have learnt from our Vikings unit.
To give the children the experience of being away from home before the longer Year 6 Residential.
What we will learn
To understand the Viking and Anglo-Saxon struggle for the Kingdoms of England.
To experience elements of culture and life in Viking England.
To ask and respond to questions about contrasts, connections and trends.
What does £210 cover?
Transport to and from Ufton Court by coach.
Accommodation in either Ufton Court's Tudor Manor or Woodland Cabins.
All meals from Monday lunchtime until Wednesday lunchtime (We also get snacks throughout the day).
Ufton Court Staff to lead all activities. 24 hour on-site first aid and medical staff. Travel insurance.
What are the sleeping arrangements?
One class will stay in woodland lodges – these sleep between 8-10 (2 boy lodges and 2 girl lodges) with a staff lodge. Children can get the attention of their teacher using a bell, linked to the staff lodge.
Two classes will stay in Tudor manor in dormitories of between 5-12 children with staff rooms nearby.
All locations are secure and the children have adults near to support them if needed.
What does the schedule for the two days look like?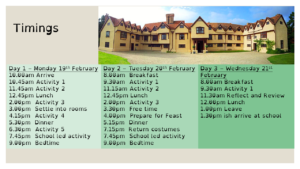 What food will the children have?
Snacks provided mid morning and mid afternoon
Breakfast
Lunch
Dinner
The children do not need to bring any food.
Ufton Court accommodate for all allergies.
What can the children bring for free time?
Colouring books and pencils or pens.
Books.
Small games eg. Dobble, uni etc.
Please make sure these aren't electronic, have screens or have sentimental value.
Other Key Information shared
St Mark's will be only school on residential.
There may be day trips but they will be separate to us.
Around 11-12 members of staff will accompany the children.
We will use Hampshire approved coaches to take us there and return.
Information, packing lists etc. will be sent out during Autumn term.
We will discuss a little more at key information evening, with a packing list and other general information.
Please chat to us if you have any worries or concerns.
Questions asked:
Is the site safe?
Ufton is a very safe place for children to visit and staying at Ufton Court is great fun.
Just like schools, all our staff have a DBS check and are trained in safeguarding.
All their Teaching staff are trained in paediatric first aid.
All activities are underpinned by robust and rigorous Health and Safety policies and procedures, including risk assessments and their team work together to be vigilant and enforce our Health and Safety Policy.
Ufton Court is staffed 24 hours a day and is situated on private land where public access is not permitted.
All doors have regularly changing codes and entry at their gate is via an intercom to ensure the security of all of those staying with us.
All adults on site are identifiable either through their clothing or the lanyard they must wear.
They also hold a level 5 food safety rating and can cater for all dietary needs.
Is there a shop on site? Do they need any money?
There is no shop and therefor no need for any money.
Do you need to bring bedding?
All bedding will be provided by Ufton Court. Pillows and duvets are changed between groups to allow a rest period and bedding is washed with a sanitiser and eco laundry non-bio liquid. If your child has allergies that may be worsened by their bedding, please notify us and we can arrange for you to bring bedding. There will also be blankets available if it is cold.
Will the classes be together?
The activities will be separate and as class. The children will get down time together. They will eat dinner together. Some of the activities are all together too.
Are the showers enclosed?
Yes they are all individual showers.
Do email us if you want to know anything else. We will discuss more at our Key Information Evening. More information can also be found here: https://www.uftoncourt.org.uk/
Enjoy your summer holiday,
Mrs Boyle, Mrs Spiers, Mrs Rosso, Mrs Parker and Miss Carr