Listen to us sing about our values in our school song, "We're Growing and Learning Together"
Why did we chose our values? What makes them important? And what makes them Christian?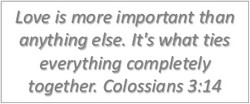 Love is a very important value to us as a school. Love underpins everything that we do. It is very much 'the why' of who we are. Love is evident in our relationships with each other and in our actions to support our community and our world. We see it in our interactions at school and home, feel it when we are together, and experience it through how others act towards us. We can grow and learn together because we know that God loves us.
What makes love a distinctively Christian value? Because Christians recognise that God is love, and love comes from God (1John 4:7). Whilst love is important in almost every culture and religion, the Bible tells us that God loved us first. We are therefore able to love in the true sense of the word because God loves us. As we receive and experience God's love, which is unconditional and for everyone, we can then love others. Christians believe that it is by understanding God's love for us that we truly love others. It is with this in mind that St Mark's choses love as a value.
We see love shown in the Christian narrative in many ways. Christians believe that Jesus' death and resurrection were all because God loved us and wanted us to be made right with Him again. This was the ultimate expression of love. Almost every Christian story has at the heart of it the love of God. For example, the Passover, Abraham and Isaac, The Good Samaritan, Calming of the storm and so on.
At St Mark's we develop our value of love through: our worship times together; sharing stories of how God and Jesus show love to us; modelling positive interactions and encouragement; supporting those in need, both at school, in our community and in our world; and many other ways.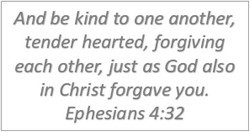 Forgiveness is an important value to us. Forgiving one another, as Jesus taught us by his example, is the message we try to follow at St. Mark's. Forgiving ourselves and others can be challenging but through our growth mind set and learning behaviours, we learn that mistakes are good and proof that we are trying.
What makes forgiveness a distinctively Christian value? Because God forgives us. Christian forgiveness is based on God's unconditional love for us, and despite the mistakes we make and the selfish attitudes we have, God still forgives us. And God not only forgives us, but makes us new inside when we trust in him, and helps us to live each day by giving us His Holy Spirit as our helper. Further, we can forgive others because God forgives us.
We see forgiveness shown in the Christian narrative in many ways. God enables us to be forgiven because of Jesus's death and resurrection. The Bible is full of verses which talk about forgiveness, and also command us to forgive others.  The Prodigal Son, the story of Joseph, and Jesus at the well all exemplify forgiveness.
At St Mark's we develop our value of forgiveness through: modelling it to one another; looking at Christian stories in worship; discussing how we can forgive when things go wrong; teaching what sincere apologies mean; having a fresh start after a bad day; celebrating when a child forgives and moves on; and being empathetic to one another.

At St. Mark's we have high hopes and aspirations for our future, our school and community. We also understand that faith gives us hope for both now and for the future, and that this hope brings confidence. Hope for us means that there is always a future whatever situation we are in, because God promised to never leave us, to always love us, and to help us in times of need.
What makes hope a distinctively Christian value? Christian hope is rooted in God's love for us. Christians believe that: God has our best interests at heart; God will never leave us; God will provide for us when we are in need; God knows us (even the number of hairs on our head!); and God promises us of a better life to come. When we are in our darkest time, God is there, and will help us. Hope is grounded in the character of God; the Bible is full of stories of how God changes situations.
We see hope shown in the Christian narrative in many ways. The resurrection gives us hope for eternal life. The gospel stories tell of hope, for example the woman who touched Jesus' robe ("If I just touch his clothes I will be healed."). The rainbow after the flood is a sign that God will never break his covenant of love with us. God used Moses to lead the Israelites out of Egypt, when slavery seemed their destiny. The lost coin and the lost sheep tell us of the lengths God will go to bring us back.
At St Mark's we develop our value of hope through: supporting the Raising Hope Foundation; never giving  up on our pupils; wanting the best for them academically and in their character; helping them see light despite the darkness; investing in our pastoral team; and learning about prayer.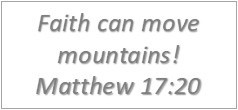 At St. Mark's, we believe that faith is a firm foundation under everything that makes life worth living. (Hebrews 11) It is rooted as our faith in God but it is also a firm faith, trust and confidence in ourselves, others and in the children we teach. We want our children to grow the faith that they have in themselves and develop their own core beliefs, underpinned by Christian values and teaching, to equip them as they leave our school and take their place in the world.
What makes faith a distinctively Christian value? The Bible says that God's character never changes, and so we can have faith and trust that he will do what he says. Therefore, having faith in God helps us not to be "blown and tossed by the wind" (James 1:6). Prayer to God is a demonstration of faith. God has faith in us as he tasks us to love one another and carry out his mission on earth.
We see faith shown in the Christian narrative in many ways. Notably, in Hebrews 11, the Bible mentions several 'heroes' who followed God's instructions because of their faith in Him, yet never received what had been promised. Almost all Bible stories demonstrate faith in action as they show normal people trusting in God because of their faith. Job, Lazarus, Noah, Joseph, Zacchaeus, Mary & Joseph, and even Judas are particular stories that help us understand what faith looks like.
At St Mark's we develop our value of faith through: having faith in one another as we delegate and also develop our school together; prayers in Worship and in class; listening to Bible Stories that encourage us; and sharing the Christian faith with others (Christmas and Easter productions).