About our governors
​At St Mark's, the governing body is composed of representatives from the staff, the local education authority, Immanuel Church, parents and the head teacher. Apart from the Head Teacher and the Immanuel Church incumbent minister, all governors are appointed for a term of 4 years. Elections are held for staff and parent governor positions when a governor term ends or a vacancy occurs. Governors have a number of legal duties as outlined by the government. These duties include having financial, personnel and curriculum management of the school, with responsibility for setting the strategic direction of the school and in the oversight of the school management.
All Governors are expected to undertake training and to attend Governing Body meetings and committee meetings, undertaking school visits and review work in support of the Governors responsibilities.  Governors are all volunteers and are unpaid for the work undertaken.The Governing Body is led by a Chair and Vice Chair, elected annually by the Governing Body members, who work closely with the Head Teacher and the Senior Leadership team.
Name
Category
Appointed by
Term of Office ends
Committee Membership
Responsibilities
Steve Milligan
Parent Governor
Parent election
19.01.2022
Resources (Chair)
Chair, English, EYFS, Safeguarding
Brian Simmonds
Local Authority Governor
HCC – Nominated by Rita Burgess
01.09.2019
Standards

Resources

Vice Chair, Attendance, Health & Safety
Graham Robins
Foundation Governor
Diocese of Winchester
18.01.2019
Standards

Resources

Maths, Pay Committee, Church liaison, Admissions, Governor Forum Representative
Georgina  Bull
Foundation Governor
Diocese of Winchester
26.02.2021
Resources
Vice-Chair, Sports Funding, Admissions
Keith Dawson
Foundation Governor
Diocese of Winchester
19.10.2018
Standards
SEND
Paul Wernham
Foundation Governor
Diocese of Winchester
30.11.2021
Standards
Quality of Teaching
Richard Levett
Parent Governor
Parent election
30.11.2021
Standards
Pupil Premium, Curriculum
Claire Cooper
Co-Opted Governor
Governing Body
26.11.2018
Standards

Resources

—
Nikki Ford
Staff Governor
Staff election
03.06.2020
Standards
—
Charles Applegate
Head Teacher
—
NA
Standards

Resources

—
Register of Governors Interests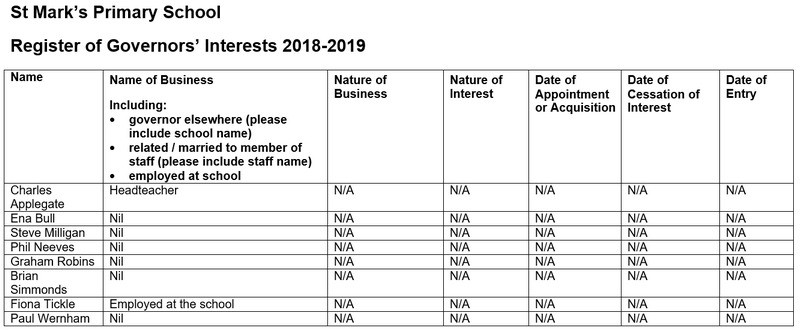 Our Standing Orders can be found here.