About our governors
At St Mark's, the governing body is composed of representatives from the staff, the local education authority, Immanuel Church, parents and the head teacher. Apart from the Head Teacher and the Immanuel Church incumbent minister, all governors are appointed for a term of 4 years. Elections are held for staff and parent governor positions when a governor term ends or a vacancy occurs. Governors have a number of legal duties as outlined by the government. These duties include having financial, personnel and curriculum management of the school, with responsibility for setting the strategic direction of the school and in the oversight of the school management.
All Governors are expected to undertake training and to attend Governing Body meetings and committee meetings, undertaking school visits and review work in support of the Governors responsibilities.  Governors are all volunteers and are unpaid for the work undertaken.The Governing Body is led by a Chair and Vice Chair, elected annually by the Governing Body members, who work closely with the Head Teacher and the Senior Leadership team.
Steve Milligan
I have been a parent governor at St Mark's for just under 5 years and I am the current chair of the governing body. I had previously been on the committee at Cuckoo Meadow pre-school and also, prior to moving to Basingstoke, I was a Local Authority (LEA) governor and chair at Alvaston Infant and Nursery school in Derby.
I joined the school governing body to be involved in the running and direction of St Marks and playing an active part in my daughter's education. Within the governing body I also chair the Resources committee and am a Safeguarding governor.
In my day job I work for a pharmaceutical research company and I am involved in digital solutions to inform and recruit people to participate in clinical trials.
Outside of work I enjoy listening to music, regularly attending gigs. I am a Team Leader with Hampshire Search & Rescue (hantsar.org) where we assist the police in locating vulnerable and missing persons.
Graham Robins
I have been involved with the school in various roles since 1997 and as a governor since 2002, initially in a parent elected post, and from 2004 as a Foundation governor.  I am closely involved with both Immanuel Church and with St Marks, Kempshott, and also in roles with the Winchester Diocese. During my time as a governor I have chaired all of the committees at various times, and was Chair of Governors from 2013 to 2018.
I initially joined the governing body to assist with, and oversee, the extension of the school from a one form entry to the current three form entry, with particular interest in the early years and the year 6 suite of rooms and the Bridge facility, as Chair of the Premises committee. I continue to have a role in maintaining the high Christian ethos in the school and the school's close links with Immanuel church.
Having retired from a global financial group where I was a senior manager in audit and investigations, covering Europe and the Middle East, I am now involved as a senior exams invigilator with a local secondary school, and undertake voluntary work with the church.
My other interests include singing, travelling, walking, reading, and of course, my family and household including two dogs and four cats.
Debbie Howard
I have recently become a foundation governor after responding to an advert in the Rabbiter.
I am an ordained minister working as a chaplain at Basingstoke Hospital, a job which I love and consider a real privilege. I  attend the Andover Elim Church as well as having strong links with One Church (churches together) in Basingstoke. Before moving to Basingstoke in 2017 I was a church minster in Somerset and before that lived for 16 years in the Democratic Republic of Congo where I was a missionary.
I became a governor at St Marks because I was a governor of a school in Somerset and loved it. When I left to move to Basingstoke, I was encouraged by the Chair of Governors to seek to become a governor again if I had the opportunity. Being a governor also gives me the opportunity to invest into the local community and I am particularly impressed by and support the Christian ethos and values of St Marks.
Both my roles as a chaplain and a church minister have given me experience in managing, admin and working with people. My work in DR Congo involved various projects including working as a nurse/midwife in a mission hospital, working with churches to train children and youth workers and setting up safeguarding training and policies.  In addition, various projects supporting street children which involved, wherever possible, helping reunite them with their families or where this was not possible, placing them in families/other safe environments and teaching them life skills and providing apprenticeships.  Since returning to the UK, I continue to spend time keeping in touch with friends, colleagues and projects back in DR Congo.
I am currently working on a dissertation for my masters in chaplaincy studies and in any remaining free time, I enjoy reading, being involved in various church activities, going to the gym and am currently learning to enjoy running!
Maritza Tucker
I recently joined St Mark's governing body, as a Foundation Governor. I have been involved with St Mark's since 2007, when the youngest of my four children started at the school. As a Foundation Governor, I help protect and develop St Mark's distinctive Christian character, and ensure that decisions that are made are rooted in and reflect the school's Christian values of love, forgiveness, hope and faith. Within St Mark's governing body, I am part of the Resources Committee and am a lead governor for RE and Assessment. Previously, I was also a member of the Management Committee at the Dandelions pre-school.
My background is in Development Economics, Finance and Public Policy, with a focus on sustainable development, financial engineering and social entrepreneurship. During the last 20 years, I have held a range of senior and fellow roles with organisations including The World Bank, Princeton University, Women's World Banking, the New Economics Foundation and WWF-UK. Early on during that period, I also had a number of grassroots placements in various countries in South America and Africa, before making the transition with work from New York to London. In 2012, I formed MTIC, a consulting company that provides a range of social impact services including social change and financial modelling, strategy and business planning, and social impact measurement, for entrepreneurial individuals and organisations that aim to deliver significant positive social and environmental value. I am also a founding member of Social Value International and have also held Trustee roles with a number of charities and social investment organisations.
I have been a member of St Mary's Church, an Anglican church in Eastrop, Basingstoke, for the last 16 years, where I have been active in the music (I play the violin) and children's ministries. My Christian formation took place in the United States and Puerto Rico (where I am from), within the Baptist denomination.
At the root of all my experiences has been a great desire to live in congruence with the values and teachings of the Christian faith and to help engrain those values in my children. I have always been impressed with St Mark's strong Christian ethos and vision, which are palpable in all the school does, alongside its excellent provision of a full and rich curriculum.
My interests include hiking, cycling, snorkelling, violin playing and reading. I love nature and enjoy outdoor activities with my husband Andrew, our four children and our lovely cavachon dog Coco!
Brian Simmonds
My name is Brian Simmonds and I live in Hatch Warren. I am the Local Authority governor at St Mark's. I am deputy chair of the full governing body, and also chair of the Standards committee. I am also the H&S governor.
I have been a governor at St Mark's for 4 years, and before that I was a governor at Kempshott Junior School. I am retired, I used to work for Lansing Linde, which was previously known as Lansing Bagnall.
I am also chair of a local Patients Participation Group, and also work with the North Hants Clinical Commissioning Group.
At least once a week I get out for a long hike and have walked nearly every country path in Hampshire.
Phil Neeves
I recently joined the governing body of St Mark's after seeing an appeal for foundation governors in my church notices. As my eldest child was about to start at the school and I live in Hatch Warren I felt it would be good to more closely involved with the school.
I sit on the Standards committee and have taken on the responsibilities for Maths and Quality of Teaching.
My day job is working for an IT services company and part of my role is being involved with the non-emergency numbers 101, 111 & 105. Over the years of supporting these systems I have done a lot of data analysis to prepare regular reports for the respective customers. I feel that the work I have done preparing these reports has put me in a good position to analyse the data that we get presented with at the Standards committee meetings.
I am a regular church goer and have been attending the same place, St Mary's Eastrop, since 1986. I am currently part of the sound\AV team and have been involved with the children's groups in various forms over the years.
Outside of church and work my other interests include football, rugby & F1.
Aidan Kinnell
I joined St. Marks' governing body in 2019, following an appeal for a Parent Governor. Being local to the school and having seen my daughter settle into year R in September 2018, I thought this would be an excellent opportunity to give something back to the school.
I sit on the Resources committee with a keen interest in the school finances and the efficient use of this limited resource. My wider role will be to support the school and educational development of the pupils.
My day job is working for a large telecommunications and broadcast infrastructure provider based in Winchester. I'm a qualified accountant with experience in handling confidential data, internal controls and audit procedures, financial reporting, and influencing change. My background provides me with the ability to support and challenge both the committee and school leadership whilst influencing the direction of St. Marks.
Outside of work, I enjoy spending time with my young family, getting out and about with them – often ending up having coffee & cake. I always have a project on the go; next up is a tour of the Scottish North Coast 500. Where I can find time, I will be found in the garden or out on my bike.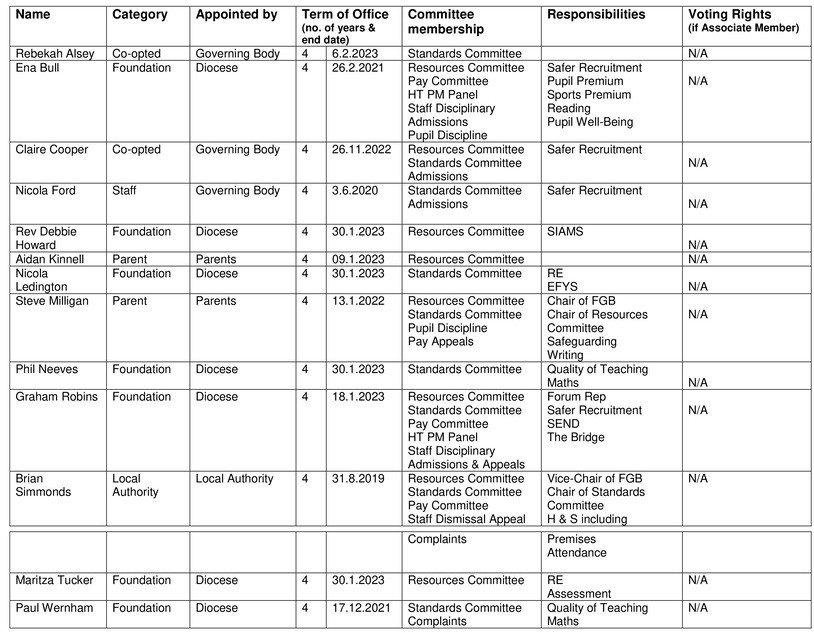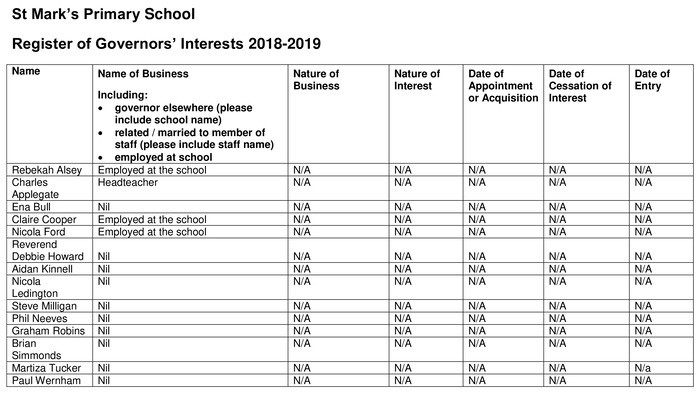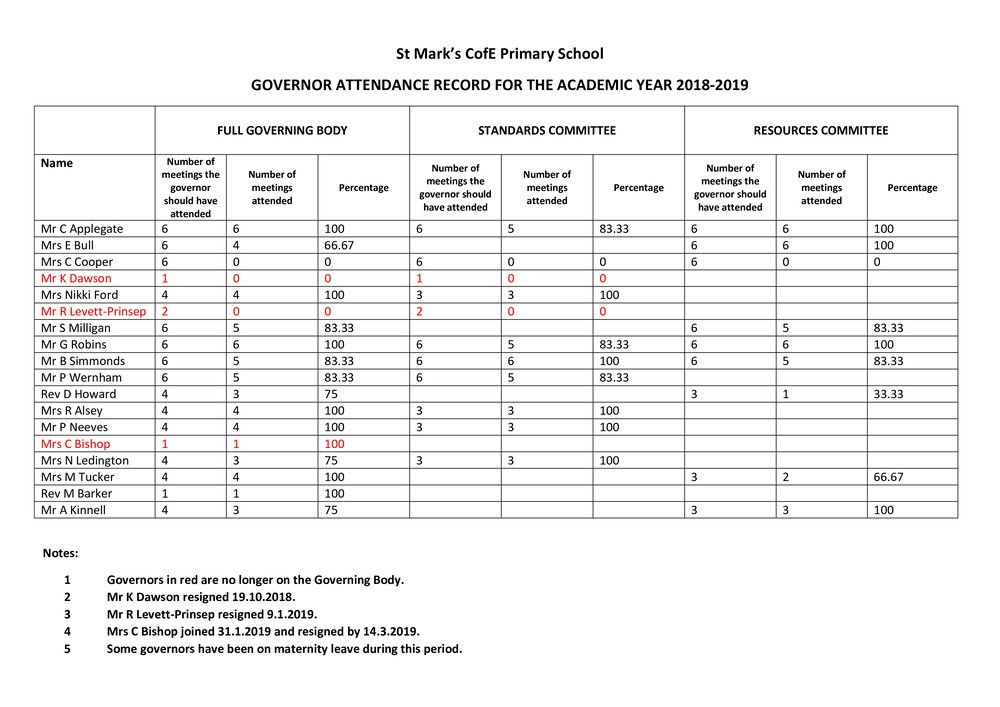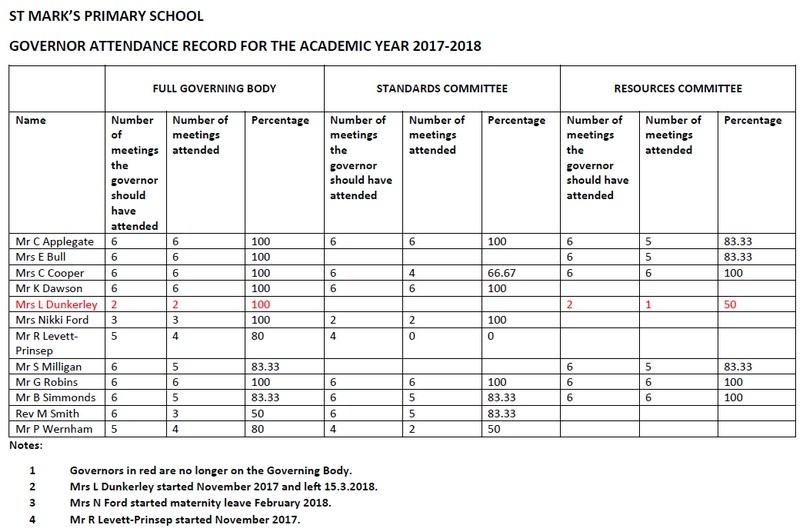 Our Standing Orders can be found here.