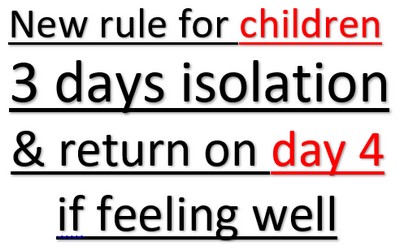 Example – a child has a positive test result on a Friday… so Day 0 – Friday, Day 1 – Sat, Day 2 – Sun, Day 3 – Mon, Day 4 – Tuesday – can return today. No need to have a negative test. Assuming they are well enough to come back to school.
The government narrative and expectation has changed around Covid: You don't need to test anymore, and you should only be off school if you are unwell.

It is no longer recommended for children and young to test for COVID-19 unless directed to by a health professional.

Whilst the government are now not recommending testing for Covid, if you do test and get a positive result, you should isolate for 5days as an adult and 3 days as a child, and then you finish isolation, without needing a negative test. Children can then return to school assuming they are well. No need to test negative.

Children and young people who usually go to school, college or childcare and who live with someone who has a positive COVID-19 test result should continue to attend as normal.

Work is only posted on Google Classroom for children who have tested positive, and not for general illness. "If you're not well enough to be at school, you're not well enough to work at home."

The government is not expecting pupils or staff in schools to routinely test themselves for COVID-19.

Tests aren't available for free, and the school is not being given any more tests.
See here for more information.