Good Morning Parrots, Puffins and Penguins!
Did you see any snow falling outside your window yesterday? That was very exciting wasn't it – There were some really big flakes falling but sadly not enough to build a snowman!
Hope you all had a lovely day yesterday and are looking forward to today's activities!  :)
Today we are going to be listening to the 'Noah's Ark' story with Mrs Hearn, counting in 2's just like Noah had to when the animals got in his boat and completing some lovely rainbow art! Lots of fun things to look forward to. 
We can't wait to see your lovely work on Tapestry later.
Have a lovely colour-filled day!   
Year R Team 
Don't forget you can email us on yearr@stmarksce.org.uk. We would love to hear from you if you have a question, need a password or need some help.
You can continue to use Tapestry to share your child's work. Please only upload one post a day. You can either choose one activity or put all the activities you complete on one post.
We look forward to hearing from you. We may not reply the same day!
Independence
The children in Year R are very rarely asked to work independently, particularly when writing. It is expected that they will need adult support to get started on all of the tasks we set for them here, and continue to need it throughout their activity.
However, we want to continue to build their independence, so encourage them to use resources which can help them be independent like sound cards, letter formation cards for handwriting etc.
Note for parents: Hopefully your children will enjoy working through these activities with you. We completely understand it may be difficult to complete all these tasks due to other family commitments or you are working from home, so please do not worry; complete what you can with your child.
There is absolutely no expectation that you get all, if any of these activities completed each day. 
Ongoing Daily Activities
Counting and sorting objects – count accurately and sort by colour/size/shape
Reading on Oxford Owl– you'll need to create a parents account for this.
Handwriting – tracing over your alphabet card and name.
Keywords – practise these everyday. These are at the bottom of the 'Educating Home' section on the Home page of the website, under the 'Our Classroom Resources' section. Click here to be redirected.
Phonics Play -sign in for free – Username: march20 Password: home.
Teach Your Monster To Read– the computer version is free.
Numberblocks Games on cBeebies.
Practise your Set 1, Set 2 and Set 3 sounds with Mrs Baird. Click here.
*NEW* Big Cat reading books – These are in the reading section of the 'Educating Home' page. Click here to be redirected.
English – 
Today's story is 'Noah's Ark' read by Mrs Hearn. To view this please enter your password in the video resources section at the bottom of this page.
At the end of the story, Noah saw a brightly coloured rainbow in the sky -colours make our world a brighter and happier place. Rainbows are often seen when sun shines through the rain, sometimes after a storm.  The rainbow that appeared in the sky, was God's promise that he would never flood the Earth again. 
Can you think of a time when you saw a rainbow?
Can you name and write down the colours of the rainbow?
What colours make you feel happy?
Can you write a promise that you would like to keep?  Maybe you'll promise to keep your bedroom tidy.
There is some rainbow themed paper here but you can use whatever you like.
Maths – 
Go and collect some of your toys – Can you group them into twos and practise counting them just like Noah counted the animals: 2, 4, 6, 8, 10?
How many groups of 2 to make each number?
Extension (or just for fun!)
Animals went in 2 by 2 song – Click here to open. 
Why don't you investigate grouping the animals in 3s, 4s, 5s etc?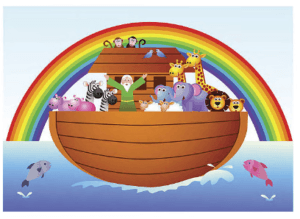 Creative Activity  – Rainbows to symbolise hope 
Can you create a picture of a rainbow? You can use any art materials you like: paint, felt tips, pencil crayons, chalks, wax crayons, collage materials, wool….
As rainbows are a symbol of hope, when you're finished, why don't you put your rainbow up in a window at the front of your house so other children can see it if they go out for a walk. 
Please can parents also take a photo of the finished rainbow before they go in a window and include these in your daily tapestry post. We would love to put all your rainbows together to make a rainbow mural. Collaborative artwork even when we are not together :) 
Here are some additional rainbow themed programmes, song and activities:
A rainbow themed Alphablocks activity:  Click here to watch 
 Numberblocks episode with rainbows in: Click here to watch.
Rainbow dance:  Click here to watch.
Rainbow song: Click here to watch.
Bye for now!