Symptoms of Covid-19
Key points: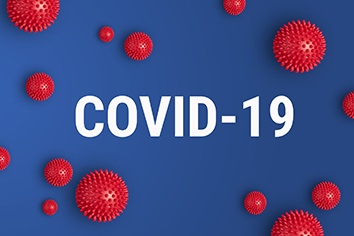 These symptoms remain the same (a new continuous cough; a high temperature; a loss of, or change in, your normal sense of taste or smell).
Key points:
Have a back-up plan in place if your child has to be collected immediately, or if the class, year or school has to close.
If you child displays any of the symptoms, they must not be in school, and must have a test done (details here).
Parents showing symptoms MUST NOT be on the school site and their children should be self-isolating for 14 days.
Any person developing symptoms during the school day MUST go home as quickly as possible.
The person (child or adult) with symptoms MUST stay at home for 7 days and arrange to have a test. Their household MUST stay at home for 14 days.
Parents or staff must tell the school what the result of the test is.
Anyone developing symptoms (and their household) should follow the 'Stay at home' advice.
All parents will be informed if there has been a positive case in school. Public Health England will also be informed.
If someone tests positive, the health protection team will carry out a rapid risk assessment to confirm who has been in close contact with the person during the period they were infectious, and ensure they are asked to self-isolate for 14 days. Close contact means:
a) Direct close contacts – face to face contact with an infected individual for any length of time, within 1m, including being coughed on, a face to face conversation, or unprotected physical contact (skin to skin).
b) Proximity contacts – extended contacts (within 1-2m for more than 15 minutes with an infected individual.
c) Travelling in a small vehicle, like a car, with an infected person.
If someone tests positive, the health team may recommend that a larger number of other pupils or staff self-isolate at home as a precautionary measure – this may be the whole school or a year group.
More detail – Taken from this government guidance:
If you have symptoms of coronavirus (COVID-19), however mild, OR you have received a positive coronavirus (COVID-19) test result, the clear medical advice is to immediately self-isolate at home for at least 7 days from when your symptoms started. Do not go to a GP surgery, pharmacy or hospital. You should arrange to have a test to see if you have COVID-19 – go to testing to arrange.
Consider alerting people who you do not live with and have had close contact within the last 48 hours to let them know you have symptoms of coronavirus COVID-19.
Following a positive test result, you will receive a request by text, email or phone to log into the NHS Test and Trace service website and provide information about recent close contacts
After 7 days, or longer, if you still have symptoms other than cough or loss of sense of smell/taste, you must continue to self-isolate until you feel better.
You do not need to self-isolate after 7 days if you only have a cough or loss of sense of smell or taste, as these symptoms can last for several weeks after the infection has gone. See the ending isolation section below for more information.
If you live with others and you are the first in the household to have symptoms of coronavirus (COVID-19), then you must stay at home for at least 7 days. All other household members who remain well must stay at home and not leave the house for 14 days. The 14-day period starts from the day when the first person in the household became ill. See the explanatory diagram: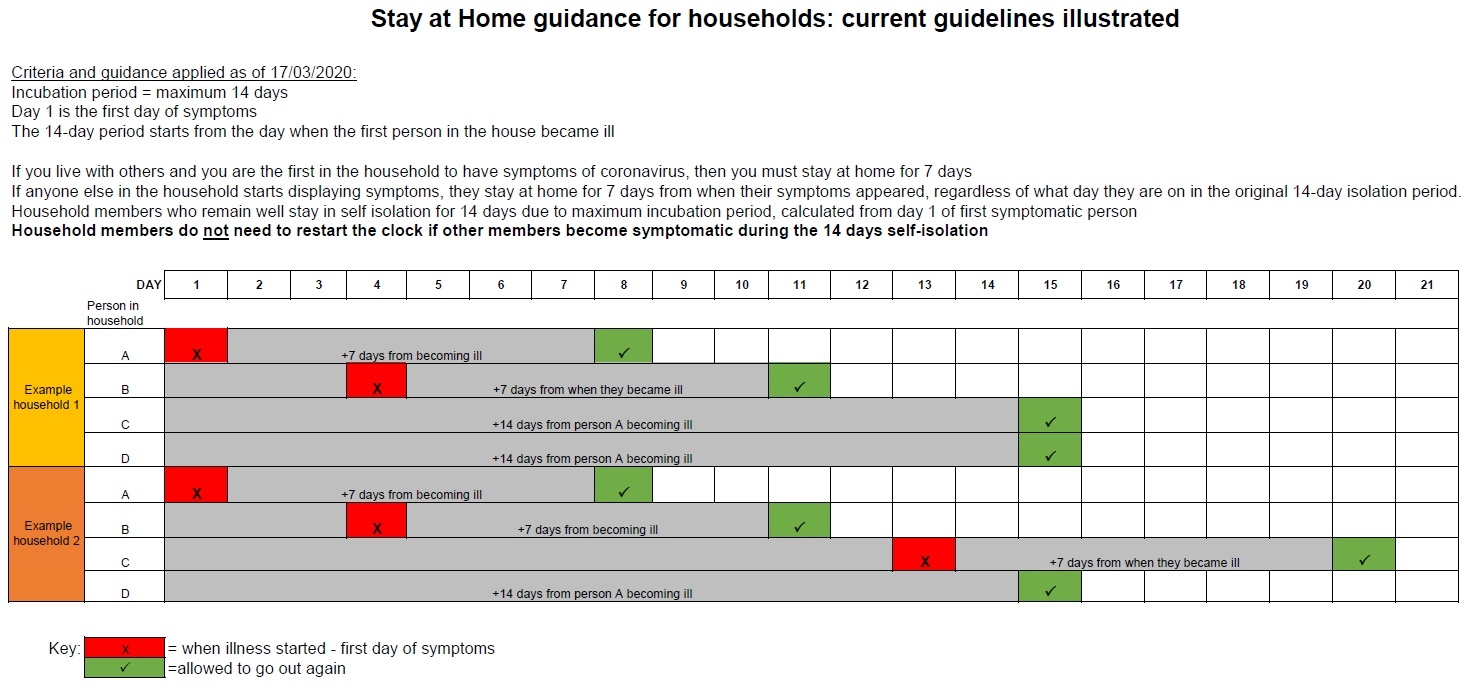 Staying at home for 14 days will greatly reduce the overall amount of infection that people in your household could pass on to others in the community.
If anyone else in the household starts displaying symptoms, they must stay at home for at least 7 days from when their symptoms appeared, regardless of what day they are on in their original 14-day isolation period. The ending isolation section below has more information, and see the explanatory diagram.
If you have symptoms, you should stay as far away from other members of your household as possible. It is especially important to stay away from anyone who is clinically vulnerable or clinically extremely vulnerable with whom you continue to share a household.
Reduce the spread of infection in your home by washing your hands regularly for 20 seconds using soap and water, or use hand sanitiser, and cover coughs and sneezes.
If you feel you cannot cope with your symptoms at home, or your condition gets worse, or your symptoms do not get better after 7 days, then use the NHS 111 online coronavirus (COVID-19) service. If you do not have internet access, call NHS 111. For a medical emergency dial 999.
If you develop new coronavirus (COVID-19) symptoms at any point after ending your first period of isolation (self or household) then you must follow the same guidance on self-isolation again. The section below (After ending self-isolation and/or household-isolation) has further information.