What a great week!
We're so proud of the children – they continue to work hard and enjoy themselves! We have been thinking about forgiveness this week. In particular, how it makes us feel when we forgive others who may have wronged us. Letting go of the anger, the hurt, the frustation has such a positive effect on how we feel. It can take courage to forgive and to take the first step, but we want to encourage the children not to hold on to anything! "Don't Rub It In, Rub It Out!"
Thank you to everyone who was able to support the car wash last Satuday. It raised an amazing £586.71. Just amazing!
We look forward to seeing you online at parents' evening soon. More details below.
We hope you have a wonderful bank holiday weekend! From Mr Applegate & The St Mark's Team
Parents' Evening Bookings
See the letter sent home for bookings, which are now open. Appointments will be online, lasting 10 minutes. Please contact the office if you haven't received the letter.
Wednesday 12th May 3.40-5.30pm
Wednesday 19th May 3.40-5.30pm
Wednesday 26th May 4.30-6.30pm
Breakfast Club Vacancy
We are recruiting !
We are looking for a reliable, trustworthy and caring person to work in our thriving Breakfast Club.
You will assist in providing a welcoming, stimulating and positive start to the day for our children. You will also help with setting up, clearing away and preparation of food (cereal & toast).
Hours are 7.45am to 8.45am Monday to Friday, term time only with an hourly rate of £9.25 per hour.
Under normal circumstances, we would welcome you to visit us to meet some of the children and see for yourselves what we can offer each other. However, during this unusual time we would encourage you to visit our website and, if you would like to apply for this position email the school office at adminoffice@st-markscofe.hants.sch.uk for an application form
Dandelions Cleaning Vacancy
Dandelions Community Preschool are looking for a part time cleaner to provide the setting with a deep clean once per month. The deep clean would ideally take place every 1st Friday of the month, the hours would be 16.30-18.30 or 18.30-20.30. This role would be paid by the hour, rate of pay to be discussed during the interview. Please contact the Dandelions Committee via; 
committee@dandelions-preschool.org.uk
 ,  for further information or to apply directly to the role. 
Star Learners
Well done to:
Year R:  Alisha, Jimmy, Callie
Year 1:   Maicie, Owen, Darcie
Year 2:   Alfie, Finley, Lucas A
Year 3:   Monica, Elouise, Callum
Year 4:   Rosie, Oliver W, Isaac, Izzy L, Tyler
Year 5:  Lucy, Jack B, Matthew
Year 6:  Frankie, Lyra, Maddie F

Rock Stars & Numbots
Rock Stars best effort;
Year 6 – Maddie F, Daniel H, Ava S, Ed E, Hannah B, Mia S
Year 5 – Jack B, Brody P, Phoebe F
Year 4 – Rosie B, Cara G, Harry A, Eddie H, Liam J, Irebami A, Luke W, Sophie G
Year 3 – William H, George H, Joe T, Chloe M, Zoe B, Harry B, Elizabeth B
Numbots best effort:
Year 1 – Edward, Jackson, Maksim
Year 2 – Beatrice, Nicholas, Sophia
Simba
Well done to Simba for getting his Gold Award from The Dog Mentor. He's making great progress in his training at school, and seems to really enjoy being at St Mark's :)
Year 5 Taster and Open Days
The following schools are planning to hold Taster Days for Year 5 pupils:
Brighton Hill School: Friday 9th July  Tel: 01256 350606
Aldworth School: Thursday 8th July  Tel: 01256 322691
Cranbourne School: Thursday 8th July  Tel: 01256 868600
Henry Beaufort School: will be holding their Taster Day online this year.  Tel: 01962 880073
Perins School: Open Mornings Thursday 8th & Friday 9th July 8.45am-10.30am. Open evening Thursday 9th July 5pm-7pm Tel: 01962 734361
Please note all dates may be subject to change. Please contact the individual schools for further information.
Year 6 Transitions Days
We have been given the following dates for the Year 6 transition days:
Brighton Hill School: Thursday 1st & Friday 2nd July
Aldworth School: Thursday 1st & Friday 2nd July
Cranbourne School: Thursday 1st & Friday 2nd July
Henry Beaufort School:  Wednesday 7th & Thursday 8th July
Perins School: TBC
Bishop Challoner School:  Thursday 1st & Friday 2nd July
Bags2School – have a clear out and raise funds!
Drop off 3:30 – 5pm in the school car park on Thursday 20th May.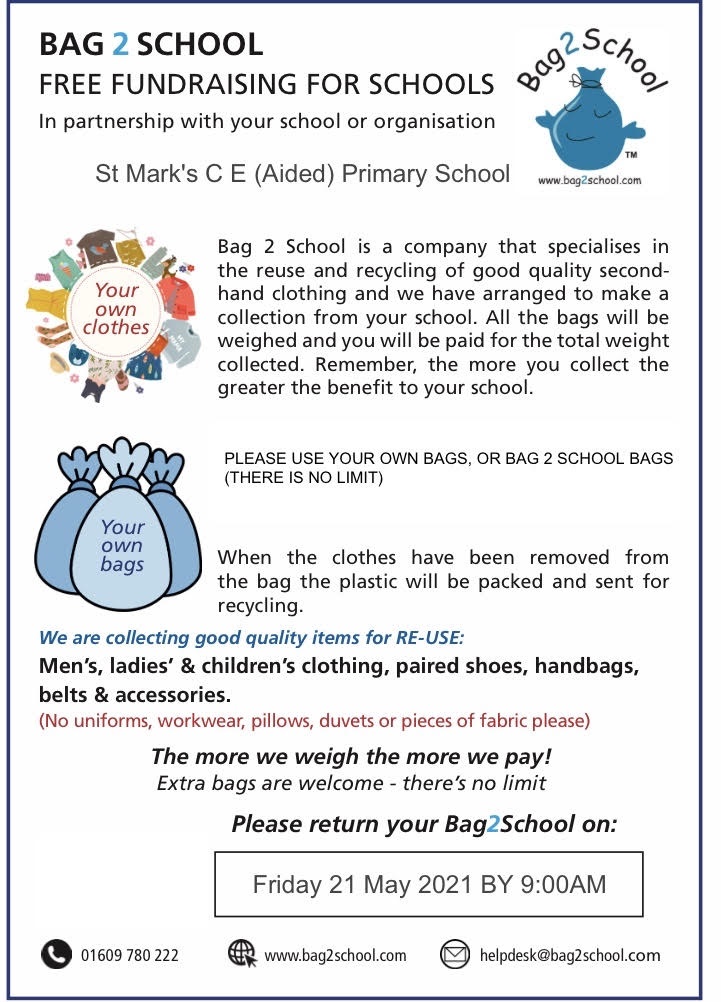 Dresses and Messes – Customised items, and raising money for FOSM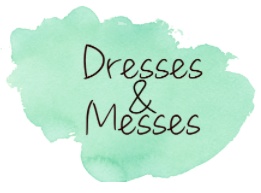 See a wide range of items available, which can be personalised as you wish. All profits go to St Mark's. Enjoy!


How to talk to your child about online safety
Click here for helpful videos from the NSPCC:
https://www.nspcc.org.uk/keeping-children-safe/online-safety/talking-child-online-safety/
Regular Notices
Sign-up for our school prayer points mailing list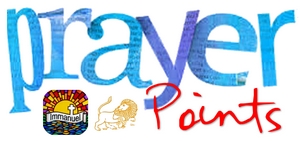 Would you like to join our prayer points mailing list? In conjunction with Immanuel church, this is a new opportunity to receive by email a half-termly prayer point list for our school. Click here to find out more. 
SCL After-school care & half term childcare
Click here for regular after school care at St Mark's.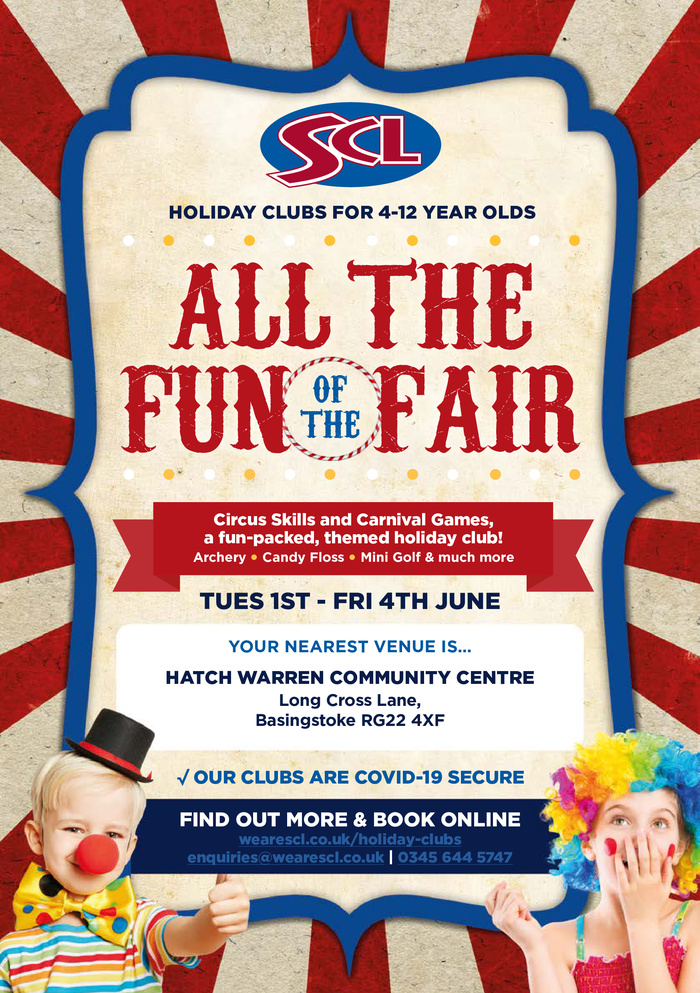 Covid Reminders
Use the email covid@stmarksce.org.uk if you have questions or need to report symptoms or a positive case.
Please keep us updated – for example, of test results.
Read this letter from Public Health England about symptoms and testing.
If a child or parent is at home because of symptoms, please keep the siblings off too. IE the whole household needs to isolate, and the person with symptoms needs to get a test.
We are moving online with homework, spellings and Google Classrooms. If you need help with technology, please do let us know by emailing the office.
If a child is off school but able to work, then Google Classroom work is available – and it should be completed. Teachers spend a lot of time making sure this work is available so no-one misses out!
INSET Days
Monday 7th June 2021
Thursday 2nd September 2021
Friday 3rd September 2021 (term starts 6th Sept)
Tuesday 4th January 2022
Friday 8th April 2022
Monday 6th June 2022
Online Forms
Recent Posts – have you missed anything?
Support our school whilst you shop!
Going to be absent?
We've moved our absence request form online. This is for absence requests such as holidays, weddings, funeral, special events, and more. You don't need to use this form for sickness or self-isolation (but please email/phone the office if they are unwell).

Email and Contact Details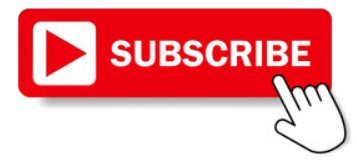 If you don't receive the school newsletter and year group emails via email, you can sign up here!
Remember, if you change your contact details, please let the office know here.
Get in touch with us