Good Morning Year 5 – Happy Easter!

Good Morning Year 5!
We hope you have been able to enjoy some of the beautiful sunshine over the last few days. The weather forecast for the next two days looks particularly amazing so if you can do it safely, why don't you try and spend some time getting some fresh air? Remember to apply your sun cream though – Mrs Poole and Miss Thomas both got a little bit burnt on Sunday as they didn't realise how hot it really was!
Each day of the Easter holidays, we are going to pop up to say hello, share some of our Easter craft with you and also maybe share a joke or riddle with you too. Have a look at the riddle below (you will need your usual video password) – if you think you've solved it, email in your answer!
We hope you enjoy the things that we share with you. Remember all the ideas are optional, just some activities you could do if you would like to join in.
Remember to keep emailing us too at year5@stmarksce.org.uk. Miss Fowler and Mrs Poole will be replying to you this week and would love to hear from you.
Year 5 Team
Ongoing Weekly Activity Ideas
Yesterday, we posted some ideas of activities that you could complete this week. Here is a little reminder of our ideas:
Baking – Can you bake a cake or pancakes?
Design an egg – Could you draw one on paper or maybe even draw on a real one?
Egg and spoon race – Who wins out of your family? Let us know!
Make a card – Could you maybe send it to a friend or relative that you are missing?
Have an egg hunt – Can you write some clues to go with it?
Make an obstacle course – Could you add exercise challenges too to each station?
Research some Easter jokes – If you find some really funny ones, can you email them to us? We might pop some on our website!
Make an Easter game – What might the prize be?
Code breaker (on yesterday's post) – If you completed the quiz, can you make your own?
Easter Craft Example
The teachers are going to be completing some of the activities this week too. Mrs Poole had a go at decorating an egg. She used sharpies to draw on an Easter bunny themed pattern.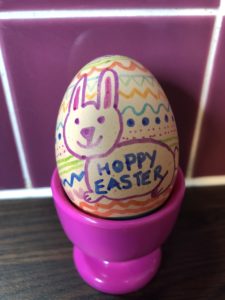 Can you decorate an egg too? Send us in your pictures!
The End!