Good Morning Year 1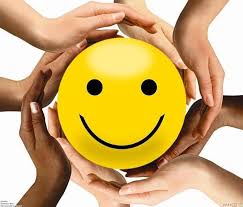 We hope you are well and have had a lovely weekend. What makes you happy? Can you tell someone at home 3 things that make you happy today? Maybe today you may like to watch a story read by one of the Year 1 teachers? You can find these in the 'Storytime' section on the Year 1 home page.
Thank you for your support.
Year 1 Team
Maths
Find our division guide here: Year 1 Division Guide
Summer Term, Week 1, Lesson 3 – Make equal groups (sharing)
Today we are going to be carrying on making equal groups. We are going to do this by sharing. Have a quick chat with someone in your house. What is sharing? Can you think of a time when you have shared your toys or some sweets? What was really important when you were sharing? It has to be the same so that it is fair!
Have a watch of the video. What do you spot? While watching the video and doing your job can you join in with the sentence?
'___ shared equally between ___ is ___.'
You could have a go at sharing practically with different objects in your house. You could share your lego between everyone in your house. You could share your teddies with someone in your house. You could share your toy cars into 5 groups.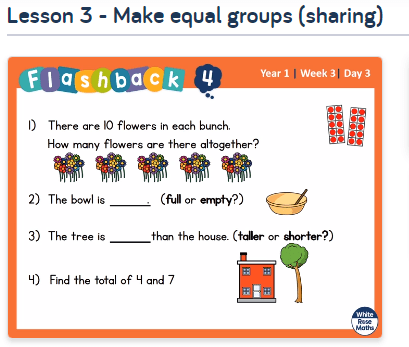 Watch the Summer Term, Week 1, Lesson 3 Video Here – Summer Week 1 Lesson 3 Video
When you have watched the video, click here to access the activity: Summer Week 1 Lesson 3 Activity
If you would like the answers, they are attached here: Summer Week 1 Lesson 3 Answers
We have prepared some extra challenges if you'd like to challenge yourself. You can find them here: Monday 4th May Challenges
Topic
Science: Today we are thinking about whether or not things are alive or not alive. How do we know things are alive? Watch this video and then have a chat with someone at home about what it means to be alive or not alive: Alive or Not Alive Video
You can use these slides to talk through the concept of alive and not alive with someone at home: Science Slides
When you have finished, have a go at this activity: Science Activity – Alive or Not Alive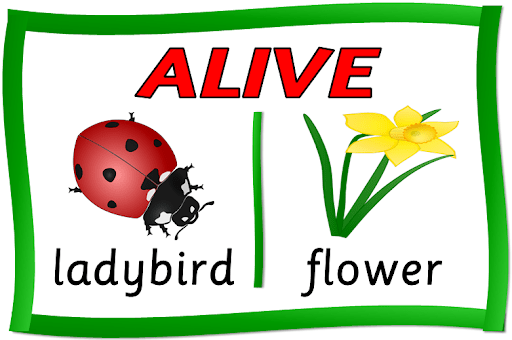 Spelling
Today we are focusing on our spelling words for the week. The words we are looking at this week are:
| | | | | | |
| --- | --- | --- | --- | --- | --- |
| saw | children | old | called | just | made |
Use these slides for ideas on how to practise spelling these words at home: Spelling Words Slides
Here are the activities outlined in the spelling slides if you would like to complete them: Spelling Activites
Have a fantastic day!