Overview of the week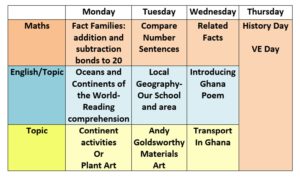 A note from your teachers!
Hello Year 2! We just want to say how proud we are of you all! We are so pleased that you have got back to work so well this half term and that you have been enjoying our new 'Hidden Treasures' topic. We are glad that you loved our pirate theme over the last few weeks and we now look forward to finding out about other 'Hidden Treasures' in our world through our Geography unit. This starts with looking at the wonders of our Oceans and Continents, then moves to looking at our local environment and then to other parts of the world. We hope you will be excited to learn all sorts of new facts and information; and that you will enjoy appreciating the beauty and hidden treasures that our world has to offer. Keep sending us your work and letting us know how you are getting on. We love to hear from you all! Have a great week!
We love seeing your fabulous work!